From the left side navigation, click on Reports-New, then Titles to access these reports.
Metadata Export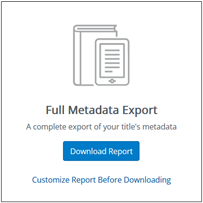 With the Metadata Export report, you can download the key metadata for your Print and Ebook* (where applicable) titles, including your retail pricing.
This report details the metadata being sent to retailers and allows you to easily review the metadata for your titles in a single document.
Market Pricing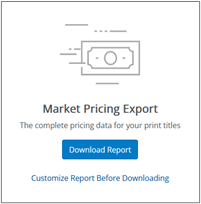 With the Market Pricing report, you can download a basic report that is focused on the retail pricing for your titles.
For both reports, the Download Report button downloads a standard version of the report with key metadata elements.
The Customise Report Before Downloading link allows you to select the data points you want to be included in the report and to arrange the order in which you want them displayed.
*Ebook services are only available to publishers in our Ignite program. Click here to learn more.