Distributing your ebook with Lightning Source gives you access to the major players for global online ebook distribution. All of Ingram's online retail partners have access to listing your ebook on their website for customers to purchase. A complete list of partners can be found below.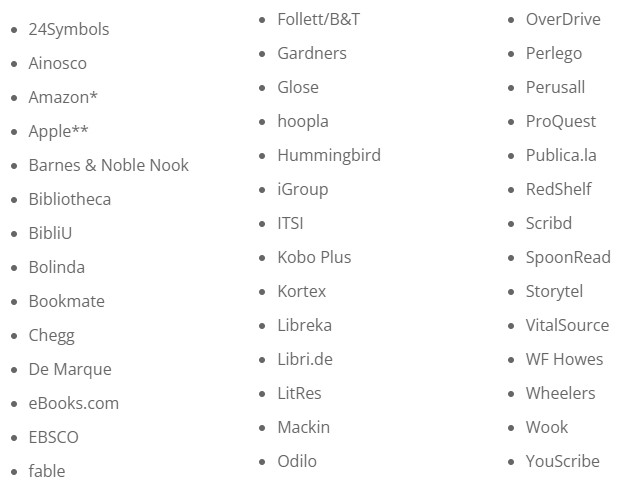 Ebook channels include subscriptions, libraries, and more! This means your ebooks will be available in more places and in more ways, including lending services that haven't previously been able to receive books from Lightning Source. The specifics of each of these new ebook channels are linked from within the new agreement. Ebook retailers do honor the on-sale date if one is selected for a new title.
IMPORTANT: When your ebook is uploaded and processed, it is immediately sent to ebook retailers for listing on their website as available for download. There is no proofing process and there is no option to enable distribution.
For sales to these retailers (excluding Apple and Amazon), the purchase discount for Ignite titles will be set at 30%.
Compensation for eBook sales through all channels listed here except for Amazon and Apple can be calculated as:
List Price – Purchase Discount= Purchase Price
Purchase Price x Units Sold – Refunds – Returns= Net Sales
Net Sales – Digital Distribution Fee= Digital Compensation
Amazon and Apple require separate agreements and their respective purchase discounts are outlined in their agreements.
You have the option to sign the agreements when you activate your account. If you sign the agreements and later decide you no longer want Lightning Source to distribute your ebooks to Amazon or Apple, please email support and request they remove the agreements from your account.
If you have activated your account and did not sign the Apple or Amazon agreements and later decide to add those services for your ebooks, you can do this in your Lightning Source account by clicking the NEW Opportunity Available button where you will accept and sign the agreements.
IMPORTANT INFORMATION:
Fixed layout EPUBs will only be available on Apple, Kobo, and Libreka. Barnes and Noble accept fixed-layout EPUBs for children's books only.
*If you have provided any ebooks to Amazon for the Kindle in the past 12 months, Lightning Source will not be able to provide service to Kindle. You can opt-in after it's been at least 12 months since you uploaded any Kindle titles to Amazon.
**If you currently have ebook content available on Apple, you will need to remove those ebooks from the iBook store prior to uploading those same titles into Lightning Source. Also, any reviews or ratings of that content will not transfer when your titles reappear in the iBook store.
Schedule time with your account manager to hear more about ebooks here.