If your ebook is not appearing on retailer websites like Amazon, Apple, Barnes & Noble, Kobo, or other retailers, there are a few things you can check and correct before contacting customer support for assistance.
Log in to your Lightning Source account and click on the title which will take you to the Title Information page.
- Make sure distribution services have been added/enabled
Click on the ebook info button to verify whether distribution has been enabled:

If the button is green and "Yes", the information for the ebook has been distributed to the retail partners and should be available for sale.
If it is red and "No", click the button so it shows "Yes" and distribution services are then added/enabled.
- Make sure you have included ebook pricing for all available markets.
Check to see that pricing has been added for each market, as shown in the image below.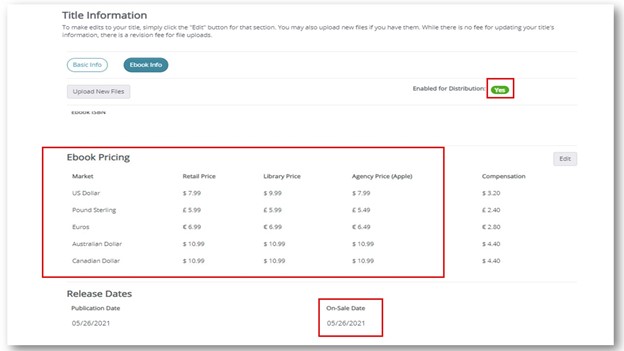 NOTE: An ebook is distributed to retailers after it is uploaded. There is no eproof process. Please make sure it's correct before you upload the files through your Lightning Source account. Ebook retailers do not recognize on-sale dates and will usually list the book as available for sale when it's received by them.
- Make sure you have the Ebook agreement on your account.
You can find the agreements in your account by clicking on the drop-down arrow in the top right corner of the account and then clicking on the link for PAPERWORK.
If an agreement is missing and you would like to add the ebook service, on the home page of your Lightning Source account, you can click on the "New Opportunity Available!" button to view the available agreements.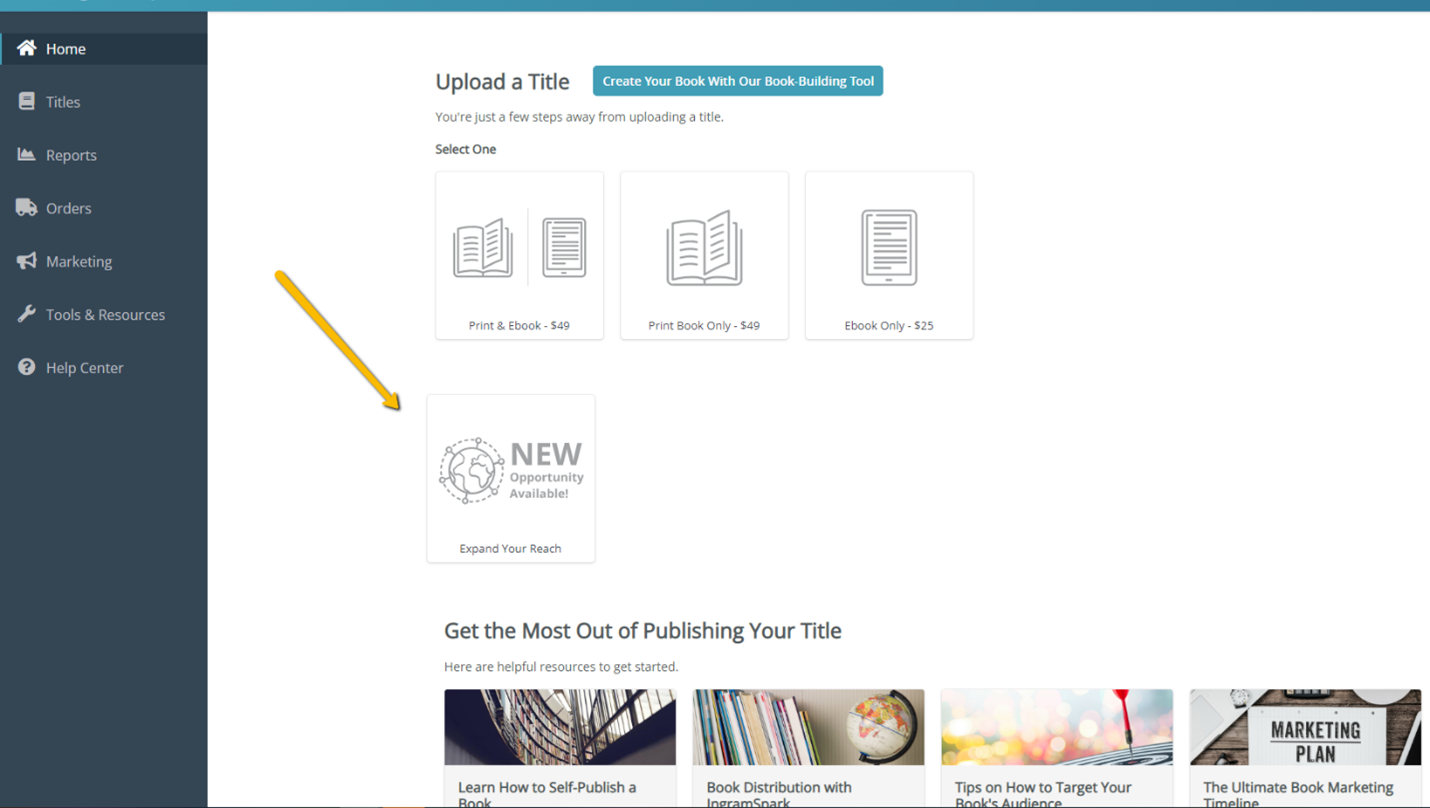 - If distribution services have been enabled and the correct agreement is in the paperwork section of your account, check the ebook format.
In your title list on your account, the format for your ebook will appear as either fixed layout (FLEPUB) or reflowable (EPUB).
Fixed layout EPUBs are not reflowable and will only be available on Apple, Kobo, and Libreka. Barnes and Noble will accept fixed-layout EPUBs for children's books only.
If you would like to change the ebook format from Reflowable to a Fixed Format or vice versa you will need to submit a new file. Lightning Source is not able to do this for you.

- If the ebook is not appearing on Apple's iBookstore, the problem could be the cover image is too large. The cover image is also inside the ebook, so both images need to be checked.
Apple requires the cover image and internal cover image to be less than 4 million pixels, each. You can calculate image size in pixels by viewing the file properties and multiplying the Height times the Width.(Total pixels = length in pixels X width in pixels). This is an Apple requirement.
Also, make sure there isn't a blank space in the file name. This can cause an error with Apple and prevent the title from being listed on their site.
If the ebook has had distribution enabled for at least 30 days and it's not appearing on a website (and not due to previously mentioned issues) you can request support to rebroadcast the information.
If you have any other questions, please contact your client service representative.